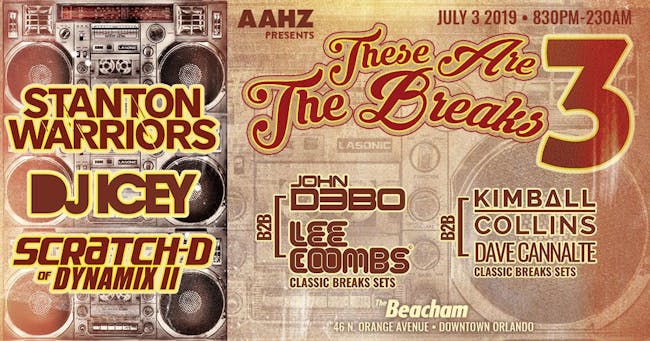 Stanton Warriors
DJ Icey
Dynamix II
John Debo
Lee Coombs
Kimball Collins
Dave Cannalte
The Beacham
$12.00 - $45.00
Sales Ended
These Are The Breaks 3
AAHZ presents These Are The Breaks 3 ft. Stanton Warrior's Dominic B, DJ Icey, Scratch-D of Dynamix II, John Debo, Lee Coombs, Kimball Collins & Dave Cannalte.
Stanton Warriors
UK's West Country Breaks Kingpins these Bristol Boys first stormed the scene with their highly acclaimed debut compilation released on XL Recordings, The Stanton Sessions, and have never looked back.
High-profile releases on XL Records, Fabric, Cheap Thrills, Central Station and Universal, alongside official remixes for everyone from Daft Punk and Fatboy Slim, to MIA and Gorillaz. This phenomenal output and remarkable longevity has ensured the Stanton Warriors legendary status among not only their fans, but also their peers, as they stay fresh, original and relevant; obstinately dancing to beat of their own drum and helping to pave the way for new talent. Check out Stanton Warrior's Dominic B as he rips through a set of classic Stanton flavored Breakbeat Goodness!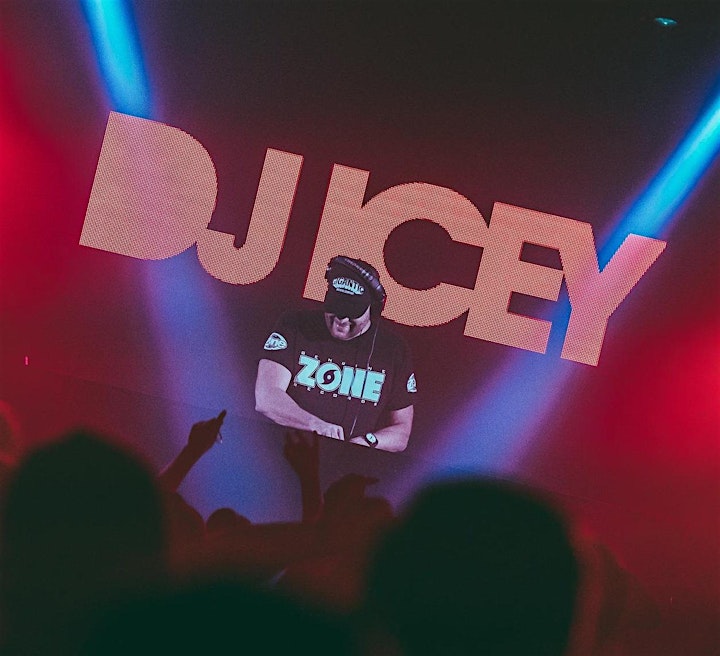 DJ Icey
For over 2 decades Icey's trademark sound of Breakbeat Bass and Beats has sound tracked dance floors worldwide. Icey's success is attributed to his relentless workflow, from constant touring to non stop studio action, where he is either crafting new original music or putting his signature touch on tracks for remixes and re-rubs to play in his legendary energy filled DJ sets and Mix Shows.
Icey has done acclaimed remixes for the likes of Deee-Lite, Liquid, Ramp, Faith No More, Beat Dominator, Nalin & Kane, Mr. X & Mr. Y, Whodini, Groove Armada, Paul van Dyk, Westbam and more. Icey is digging deep and remastering some classics from his Zone, Tree, Sweet & ECB Records vault to include in his All Classics Set at These Are The Breaks 3 !
Scratch D of Dynamix II
Dave "Scratch-D" Noller is one of those names that truly needs no introduction, a household name to die-hard fans of Miami Bass music all around the world, and a pioneer in his own right.
He began with a mega hit, the certified Gold "Just Give The DJ a Break" The records' beat and baseline had been sampled and layered over countless music by other artists ever since its release. Noller never looked back and with a catalog with the likes of Bass Generator, Ignition, Feel The Bass, Don't Touch that Dial, Techno Bass etc and side projects with songs like The Red Pill & Ozone, expect an incredible set of Pure 808 Miami Bass classic madness and then some!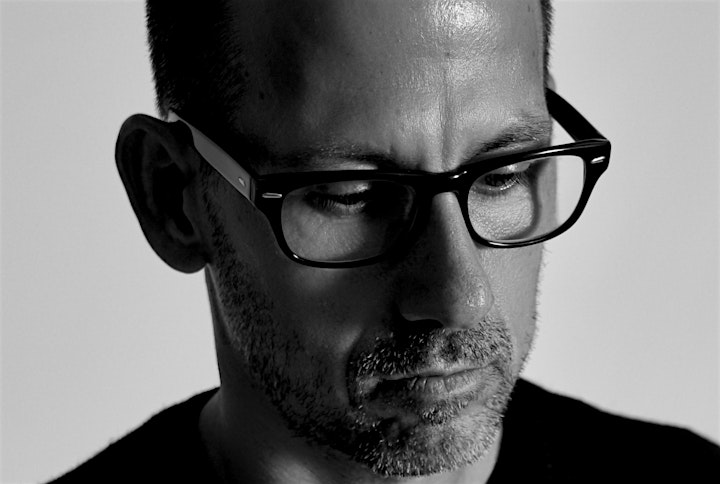 John Debo
Debo's Legendary label Mindwarp started in Boston in 1993, Purveyor of fine underground electronic dance music. Debo is now a master manipulator of modular tech. Having purged himself of studio software to return to the open-ended creative freedom of his original analogue roots. Debo will be delivering a Classics set including his Stress Records monster hits"One" and "Too" Boston Bruins "Raise Your Hands" & "I Will Be Free" , My Friend Sam "My Pleasure" plus many more!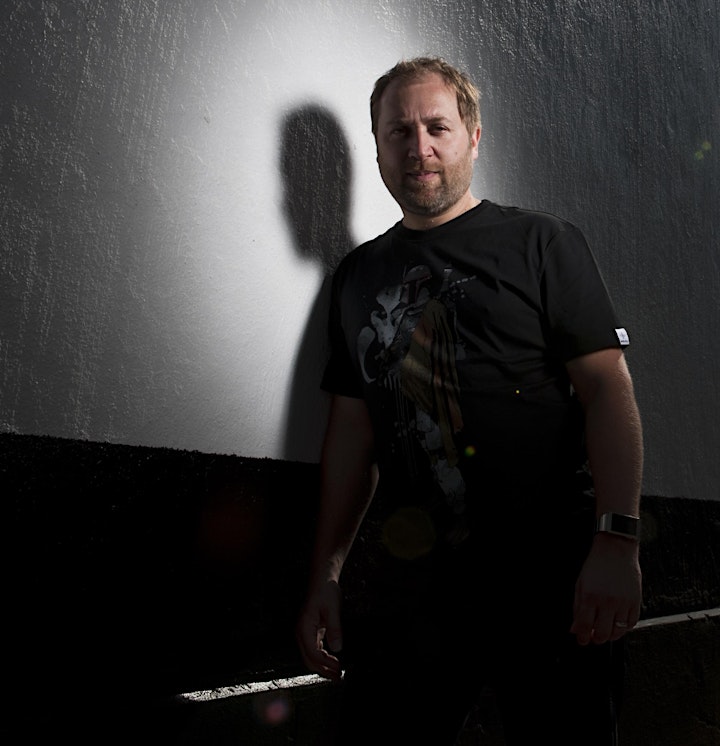 Lee Coombs
Lee Coombs started DJ'ing in 1989 at acid house parties in and around Cambridge and London. He quickly built up a following and name for himself and was soon a resident at the infamous Eclipse raves. Lee Coombs he has recorded the most excellent Sky Juice and Intensity for Finger Lickin' and then his monstrous follow-up single Future Sound of Retro, a firm favorite with Radio One's Pete Tong, Lee was a ember of the late 90s The Freakazoids, delivering insane electro funk on the Zoid and Thrust labels,
Coombs production credits run deep and desirable, from his remix of Criminal Element Orchestra ­ Put The Needle On The Record to his remix takes for the likes of Quiver, Apollo 440, New Order and Sunscream, Lee will be delivering a breakbeat classics set like only he can, built on his multi-decade musical career.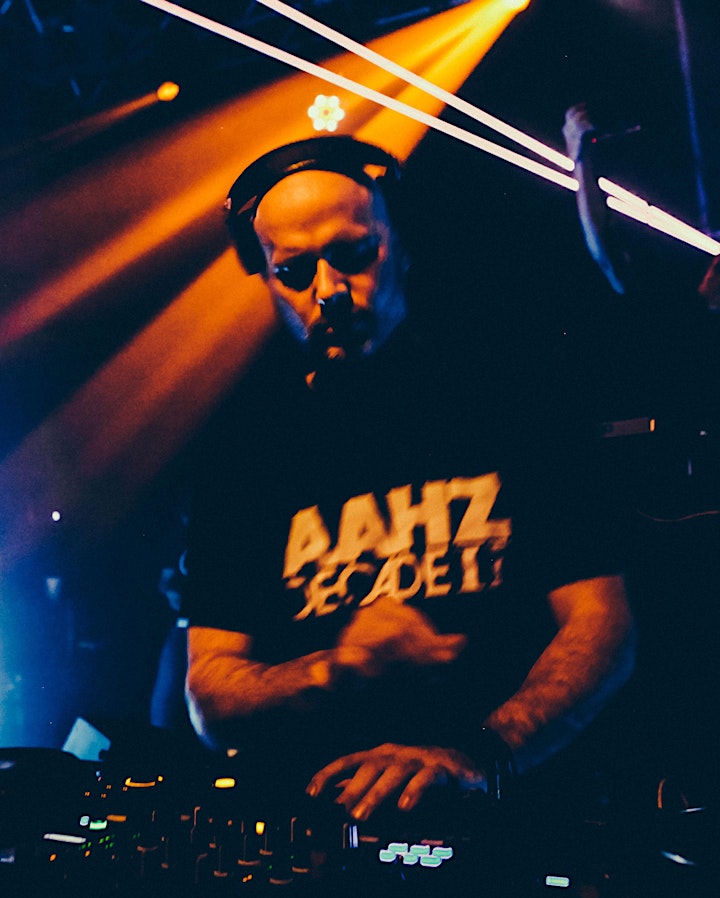 Kimball Collins
The man responsible for the true origins of Orlando's underground and late night dance music scene. Between roughly 1989 and 1993, AAHZ blossomed into a weekly all-night Saturday dance party that attracted devoted fans who would travel from across the state to dance until daylight.
Reflecting back on his early AAHZ days, Collins says, "In the original early days of AAHZ '89-'93, I knew it was a truly unique and special chemistry that was happening there and then and on a nightly basis. The music, the people and their love of sharing something musical would put an indelible mark on their lives from there onward." Join the OG of OGs, Kimball Collins, as he digs through his music for a set of AAHZ bonafide Classic Cuts!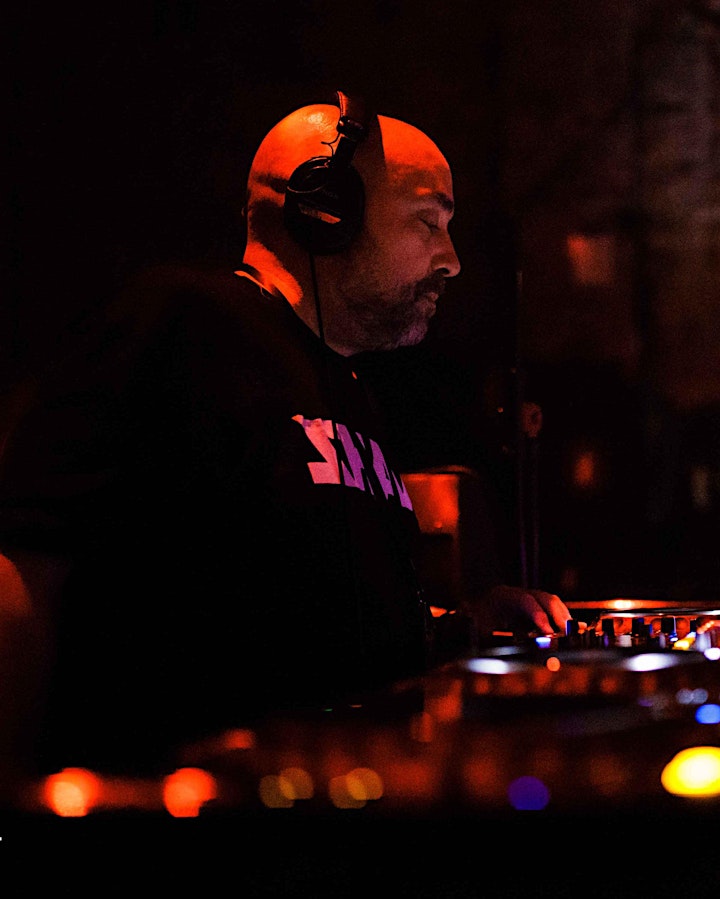 Dave Cannalte

Known as Orlando's Godfather of Progressive House and original AAHZ DJ alongside Kimball, Dave Cannalte has long been credited with co-formulating the origins of the vibrant Orlando underground dance scene via AAHZ.

In the 80s Dave came to FL from Wisconsin to helm the DJ Booth at the iconic alternative club venue, SPIT, from there he went to Disney's mega entertainment complex, Pleasure Island, where he DJ'd at The Cage, Mannequins & 8-Tracks.

While performing his late night DJ sets at AAHZ in the early 90s he was able to weave in crossover tracks from multi genres to fit the late night vibe, at TATB 3, Dave will be showcasing some of these early tracks at the beginning of the night so arrive early!

Venue Information:
The Beacham
46 N Orange Ave
Orlando, FL, 32801